Welcome to Las Vegas! This year's InsureTech Connect Conference was one for the books. Thousands of professionals traveled from across the country and world to learn and connect with others surrounding the fascinating industry of InsurTech. There were a variety of panels, discussions, speakers, and presentations all with a similar purpose in mind-to open up the perspectives of all the insurers, startups and professionals in attendance.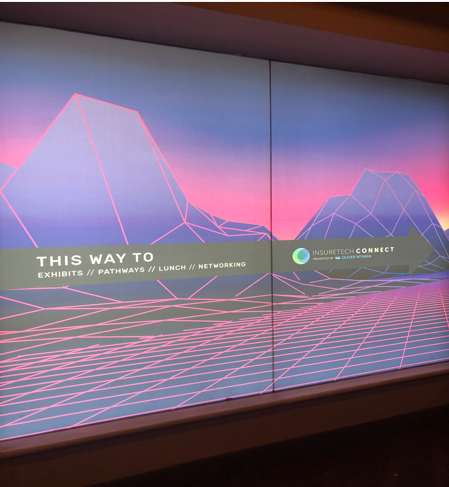 The event opened with the plenary sessions, hosted by the CEO and co-founder of InsureTech Connect, Jay Weintraub. Here we heard from some very notable industry leaders who shared the importance of innovation in a traditional industry such as insurance. Attendees were able to gain a deeper understanding of what the future holds for InsurTech. We also heard from the CEO of Credit Karma, Ken Lin, who launched a new product right on stage! Soon consumers will have a way to go on the Credit Karma app and view their insurance score and compare prices on auto insurance based on their credit. The plenary sessions ended with a panel discussion called "Money Talks: Insurance. Innovation." CEO of Hamilton Insurance Group, Pina Albo and CEO of Argo Group, Mark Watson III discussed ways they are integrating innovation within their owns companies and provided guidance on how other businesses can follow suit. Overall, this event was a great way to kick-off InsureTech Connect 2018 and made for a promising conference.
Following the plenary sessions was a full day of panels, speakers and presentations. Here are some of the sessions CCEI attended:
Panel Discussion: "Financial Inclusion: Innovation Meets Social Responsibility"
Speakers discussed the ways that the industry could be potentially scaling down on traditional insurance by increasing innovation and technology. The audience was also intrigued by how to make insurance more inclusive and available to global consumers through the Q&A portion.  One audience member inquired about how companies are working around regulations in developing countries and how it is having an impact on distribution. To answer their question, Senior Managing Director of A.M. Best, Andrea Keenan said that certain countries such as India are integrating insurance regulations into their legislation. She also ended the discussion with one important note, "You can positively impact economic growth through technology".
Panel Discussion: "The Pathway to Growth and Innovation in the Age of Digital Insurance 2.0 by Majesco"
An InsurTech startup and a Greenfield leader discuss how they moved their traditional insurance companies to become more innovative and technologically inclusive. In the age of digital insurance, Danna Gomez of Urban Advantage and Joe Griffith of Ategrity Specialty Insurance talked about their growth in the industry and their use of a platform solution to improve speed to value, unique customer engagement capabilities, and creating a test and learn environment for new products.
Debate Panel: "Agents of Change-InsureTech Face-Off Debate by Capgemini"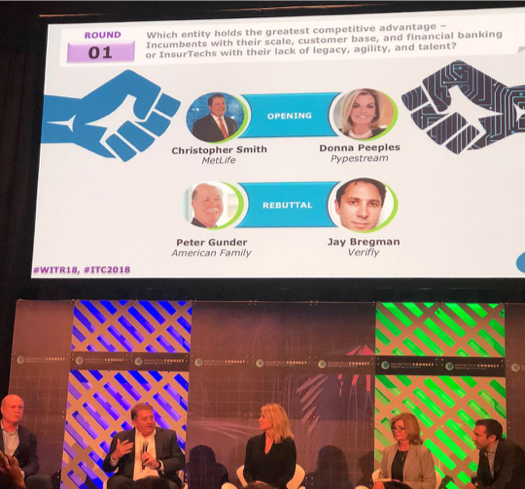 Incumbents vs. InsurTechs! A group of traditional insurers battle it out with InsurTech startups in an exciting debate hosted and moderated by Capgemini. On the incumbent's side, participating companies included Prudential, MetLife, Transamerica, and American Family Insurance. On the InsurTech side, participating companies included Pypestream, Digital Insurance Group, So-Sure, and Verifly. Each participant were required to respond to questions such as "Will InsurTech cause disruption similar to companies such as Netflix, Uber, and Amazon? How will it impact human capital? Will it solve the customer experience challenge?" While both teams agreed that technology and innovation is essential to the growth of the insurance industry, incumbents sided with supporting this kind of growth internally and InsurTechs believed that new services that incorporate traditional insurance is the best way to see progress. At the end, the audience members voted on which team they believed to have a more compelling argument and it was a tie!
Presentation: "Innovation Showcase: A Spotlight on Female Founders"
Four innovative women presented their new and exciting InsurTech products to an audience of potential investors, partners and business professionals. Each presented their demos and product designs for technologies that will help improve the customer experience in insurance. CEO and founder of True Flood Risk, Shelly Klose introduced her app that will provide customers with a convenient way to report flood claims. CEO and founder of vHealth Lab, Nina Sesto, presented an app that includes a portable ECG device that monitors a patient's heart rate at any moment they may be feeling heart attack symptoms. This product hopes to decrease potential hospital visits and reduce unnecessary costs. Next, CEO and founder of VivaMetrica, Dr. Cindy Lane, introduced a wellness app that will use predictive analytics to accurately predict mortality and reduce risk. Lastly, CEO and founder of Rozie.AI, Dr. Sudha Megan, introduced her product that centralizes insurance lines and provides a more efficient way to communicate with customers using AI technologies.
Conclusion
This was just the tip of the iceberg for InsureTech Connect. There were a lot more panels and discussions to attend and not enough time to see it all.  Gladly, the sessions we did attend provided a very valuable learning experience. The opportunity to learn from industry leaders and connect with InsurTech professionals was bar none. Thank you InsureTech Connect 2018!
For more information about InsureTech Connect visit https://insuretechconnect.com
---