The next Get Seeded Pitch Nights are April 15, 2019 at 6:30-8:30 p.m. in Storrs and April 25, 2019 6:00-8:00 p.m. in Hartford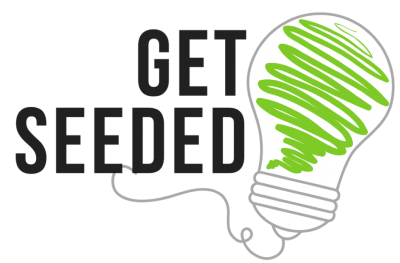 About Get Seeded
Get Seeded is a new initiative at UConn sponsored by the Connecticut Center for Entrepreneurship & Innovation in collaboration with the Werth Institute and other University sponsors. The program was developed to allow students to receive small amounts of seed funding to help move their ideas forward.  It is our hope that the ideas generated through this program will allow students to apply for larger programs/competitions for more funding including: IDEA Grant, iQ, Accelerate UConn, Summer Fellowship, etc.  We also hope that students interested in entrepreneurship and innovation will attend the public pitches to help inspire them to create ideas of their own.
Do you want to participate?
If you have a business idea? Follow the steps below.  If you don't have a business idea yet, that's okay! You can still attend any of our Get Seeded Pitch Nights to help vote on the winning teams!
Step 1: Apply to Get Seeded
Submit a short application to Get Seeded. Teams will be notified if they have been selected to pitch along with more information about the pitch process.  If you are not selected to pitch, the panel of peer judges will provide teams with feedback on how to make their application better for the next round. Applications are accepted on a rolling basis. Please apply by April 10th if you are interested in pitching in the April 15th pitch event (Storrs). Please apply by April 17th if you are interested in pitching in the April 25th pitch event (Hartford).
Step 2: Attend the Get Seeded Pitch Event
Teams will be selected to pitch at one of the Get Seeded pitch dates listed below:
The pitch events are open to the public.  Please invite your friends to attend! If your team is not selected to pitch we welcome you to attend to get an idea of the types of ideas that were selected. This will help with future applications that your team submits.
The Pitch:
Each team will have 5 minutes to pitch their idea with 3 minutes of Q&A from the audience. Teams will be provided with a list of suggested areas they will want to cover in their pitch.
Selection:
The audience along with a panel of peers will select the teams that will receive funding.  The more friends you have in the audience, the better chance you have at winning!
Step 3: Receive funding for your idea
Teams will receive up to $1,000 per pitch session that they are invited to.  We will work with your team to help you with the best course of action for using your funding.  We have certain restrictions, although there are circumstances where there will be exceptions to the funding stipulations below.
Funding cannot be used for
- Any travel not affiliated with customer research or discovery
- The purchase, rent, and renovation of office/business space
- Equipment that is not the core of the business (e.g., cell phones, laptops, etc.)
- Salaries
- Cost of inventory not directly related to marketing or prototyping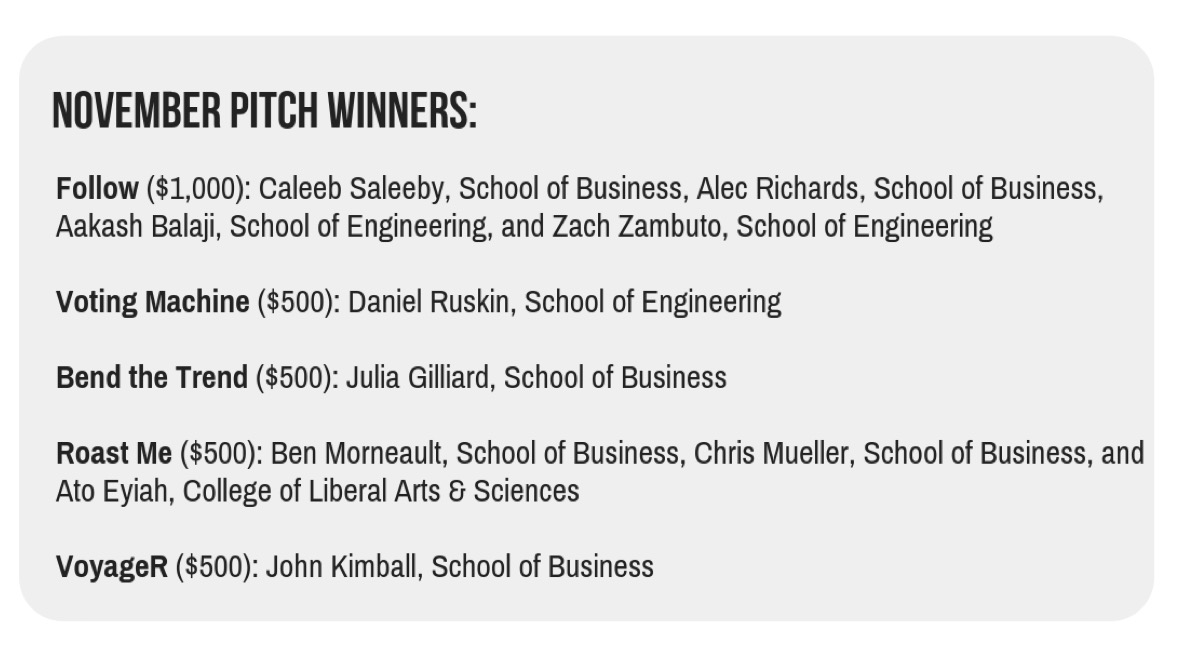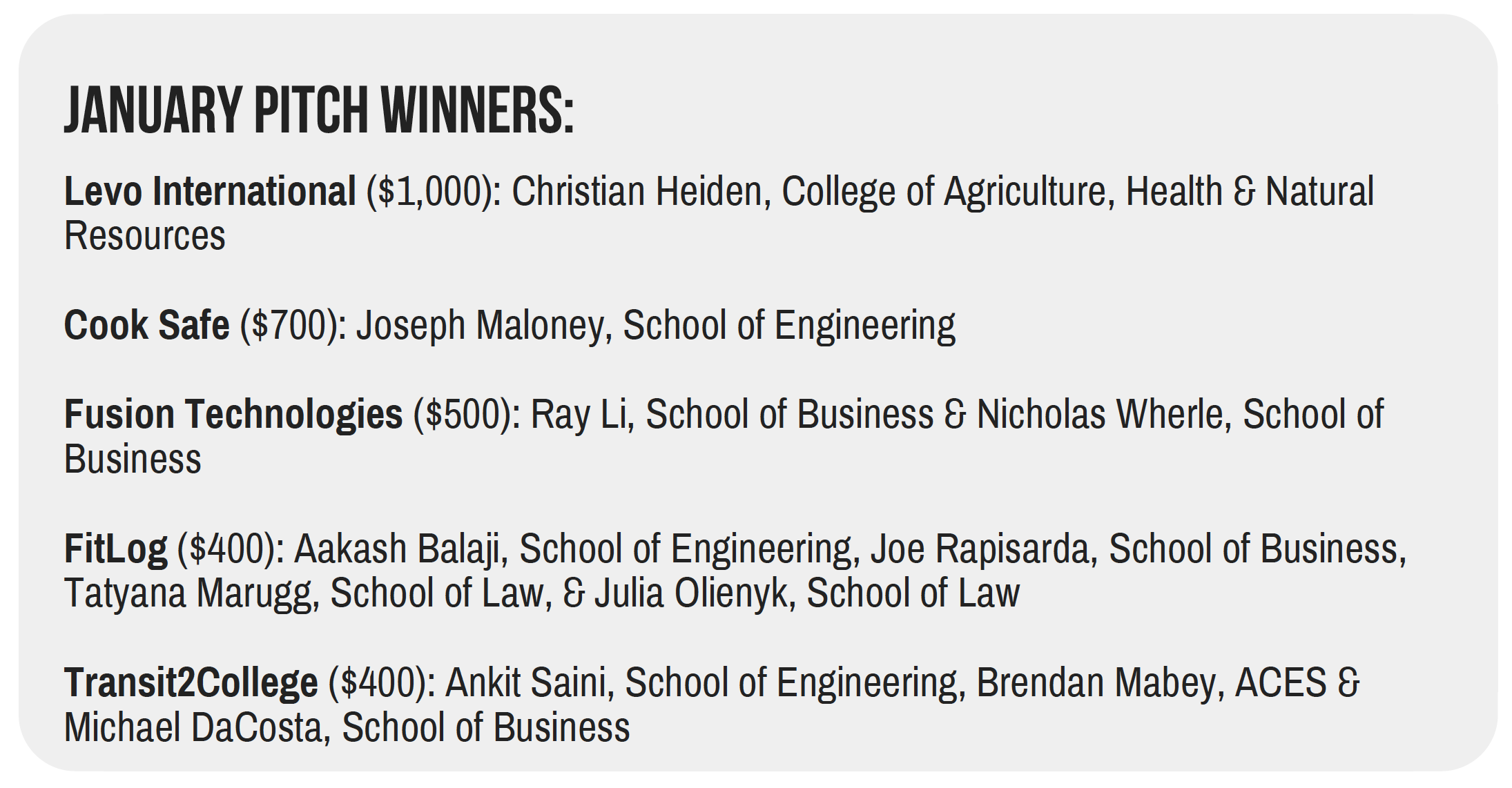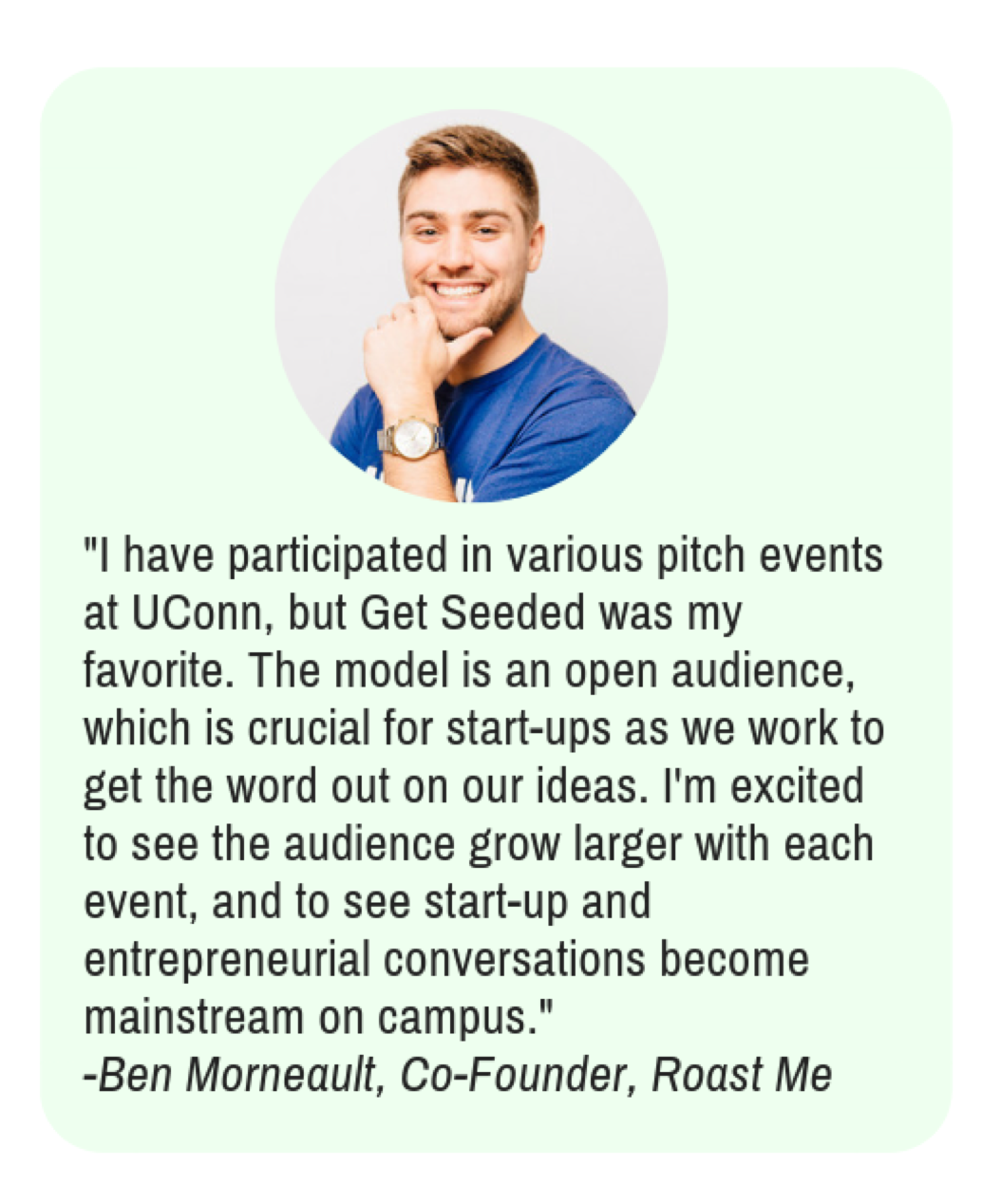 Program Sponsors:

Contact:
Jennifer Murphy
Program Manager, Connecticut Center for Entrepreneurship & Innovation
jennifer@uconn.edu
Noah Sobel-Pressman
Werth Innovator
noah.sobel-pressman@uconn.edu