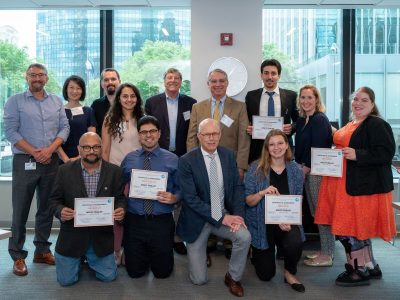 The goal of the Summer Fellowship program is to help aspiring entrepreneurs move out of the conceptual stage of venture development, and into the marketplace. The program focuses on accepting high-impact ventures with the potential to solve critical human and environmental issues.
The Summer Fellowship Finale was held on Thursday, August 2nd. The 10 teams were able to showcase their ventures in front of a panel of judges, and ultimately five teams were selected as Wolff Finalists. The Wolff New Venture Competition features 10-minute presentations by the top five entrepreneurial teams from the CCEI Summer Fellowship program, chosen on a basis of venture viability and value added to the market. A panel of venture experts decide which team deserves the Wolff Prize and the $15,000 accompanying it. This year, the Wolff family has generously increased the prize amount to $20,000.
These are the five teams selected as Wolff New Venture Competition Finalists:
Encapsulate
Armin Tahmasbi Rad, UConn School of Engineering Ph.D. candidate, and Leila Daneshmandi, UConn School of Engineering Ph.D. candidate, are engineering a diagnosis device to determine personalized treatment for cancer.
Mycozap
Faculty Cindy Tian and undergraduate student Elizabeth Johnson from the UConn College of Agriculture, Health, and Natural Resources are creating a plant-derived antimicrobial treatment for illness in cattle caused by microplasma bovis.
QRfertile
The UConn School of Engineering's Assistant Professor Savas Tasoglu, Ph.D. candidate Reza Amin, and Ph.D. student Stephanie Knowlton, are developing an in-home device with a smartphone-based automated analyzer to measure male fertility.
SAVKAR.AI
The UConn College of Liberal Arts and Sciences' Faculty Amit Savkar, graduate student David Nichols, and industry partner William Moschella are creating a predictive analytics platform for student retention in STEM fields.
WellTech
The UConn School of Medicine's Faculty Robert Aseltine, and postdoctoral fellows Chonglian Luo and Riddhi Doshi, along with the UConn College of Liberal Arts and Sciences graduate student Wenjie Wang and Undergraduate Student Madeleine Aseltine, and in collaboration with industry mentor Cal Colins, are building a program to assist healthcare providers in collecting patient information to improve quality measurement, increase patient engagement, simplify reporting, and maximize reimbursement.
Over the eight weeks of the program, these teams demonstrated extreme growth and increased understanding of entrepreneurship. Here is what Summer Fellowship participants feel they took away from the program.
"The summer fellowship experience introduced me to systematic ways of thinking about business, and gave me tools for continuing to think about business in the future like the Business Model Canvas, and taking a scientific approach to testing assumptions that I have about my business," states David Nichols of SAVKAR.AI.
"You get to work with the other teams constantly. You're getting their feedback, you're learning from what they're going through, and it gives you a great opportunity to network and grow your product without ever leaving the classroom," says Madeleine Aseltine of WellTech.
"It is much more serious than the other programs that you may find, therefore you can dig into the potential that you may have and come up with different scenarios in terms of business models," states Armin Tahmasbi Rad of Encapsulate.
"We had the opportunity to meet CEOs of companies in Connecticut, and we had the opportunity to go and see other companies in Connecticut," says Reza Armin of QRfertile.
"It's okay not to know all the answers. The people in this program will help you find the people who have the right answers so you can delegate out what you're really good at and other things that people can do that they're really good at," says Elizabeth Johnson of MycoZap.
The  2018 Wolff New Venture Competition will take place on October 9th in Hartford. For more information and to read the UConn School of Business's highlight article about the Summer Fellowship program, click here.
---