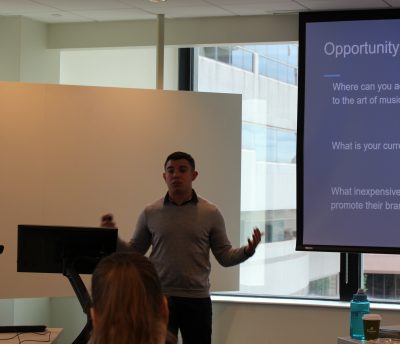 The teams participating in the 2018 Summer Fellowship cohort have been hard at work all summer advancing their startups. Each team is unique in its vision and goals, and so with this post we would like to begin a team highlight series.
Snipit, led by recent UConn graduate Alexander Ciccio and UConn undergraduate students Andrew Burns of the School of Business and Vincent Turnier of the School of Engineering, is a mobile application that provides users the opportunity to efficiently discover and share new music.
Entrepreneurial lead Alexander Ciccio explains that Snipit's mission is to serve as "a social platform that increases the efficiency and timeliness of new music discovery, as well as enables users to promote their own music or share songs amongst a supportive community of listeners."
During Summer Fellowship, the teams are taught many lessons that help them clarify their goals for their company. We asked Ciccio what lesson primarily resonates for him, and he responded that he learned how "the process of starting a business is a lot more strenuous and time consuming than we initially thought."
Although Summer Fellowship has shed light on some potential hardships of entrepreneurship, the Snipit team is undeterred by the challenge and is continuing to push forward and fulfill their dream of creating a mobile application.
The knowledge they have gained thus far in Summer Fellowship has led Ciccio and team to adapt their goals and acknowledge which specific knowledge sets they want to gain by the end of the summer.
"We hope to have a viable understanding of the detailed steps that we must take in order to see our product come to fruition and serve the market need that we intend to. It is important for us to be able to clearly identify the market we are trying to serve as well as the competition that will challenge us along the way."
When asked what initially prompted Snipit's desire to join Summer Fellowship, the team answered that, "we decided to join Summer Fellowship to support our growth as a business, both monetarily and educationally. We value the opportunities to work with other startups in similar positions as our team, as well as network and connect with experienced professionals who have knowledge regarding the various processes related to starting a business."
Undergraduate student Andrew Burns joined the team once it was accepted into the Summer Fellowship program, and he notes that what he is glad he has learned from the experience is that although the teams are different, they all can learn from each other.
---