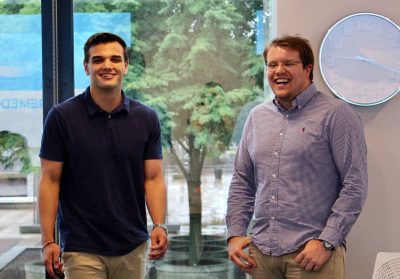 Geyser Remediation was legally formed in January 2019, yet the idea began in the Fall Semester of 2017 as part of a chemical engineering senior design project. We realized that it was something that was needed to help solve the PFAS problem, which is of ever more concern. We want to prevent people from getting sick due to PFAS-related illnesses. We think we have a solution and want to help. 
The co-founders of Geyser Remediation are Elizabeth Perry and Niko Franceschi-Hofmann, which started out as a senior design project between Niko and 3 other chemical engineers. Currently they also have an engineer, Brendan MacIntyre working with their team. Elizabeth is a Business Management Senior at UConn. Niko is a recent graduate of a dual degree in Chemical Engineering and Business Management and Brendan is a recent graduate in chemical engineering. 
"We are  trying to create systems for water utilities that will integrate with their existing systems as pain-free as possible to break down Per-and Poly-fluoroalkyl substances (PFASs) to below the recommended or desired limit in drinking water." -Niko Franceschi-Hofmann
PFAS are found essentially everywhere due to their wide range of uses, environmental persistence, and ability to travel through air and water. PFAS are manufactured compounds commonly found in industries or products requiring non-stick, or stain resistant properties and applications. The plethora of products includes food processing equipment, food packaging, fire-fighting foams, polishes and waxes, paper plates, stain resistant fabrics/carpets, and non-stick pans. PFASs enters the water supply through these sources via a chain of events: PFASs are used in manufacturing processes, then manufacturing run-off of PFASs gets into the water supply, or the manufactured products end up in a landfill and the PFASs leach out into groundwater. This contaminated water then spreads via natural water cycle pathways, spreading the PFAS with it. Eventually, that water makes its way into drinking water treatment facilities, which are not equipped to remove PFASs, or even to detect their presence. These molecules then bio-accumulate in human bodies, because our bodies cannot break them down, or flush them out easily. They tend to build up in the body faster than they are removed, which can exacerbate the health effects perpetrated by PFASs such as various cancers, low birth weights, and immune system interference, among a host of other issues.
By the end of the Summer Fellowship, we hope to have proof-of-concept and completed our second prototype. We also hope to secure additional funding and be a serious contender in the running for an EPA SBIR Grant. 
---