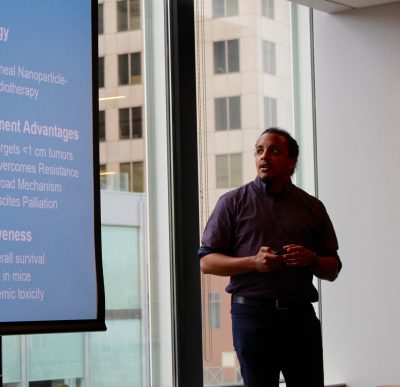 To start off our Summer Fellowship 2019 Feature Series, Nami Therapeutics Corporation is our first highlight participating in our extensive eight week summer program.
Nami Therapeutics Corp ('Nami') is a startup company based in Storrs, CT and currently in the Technology Incubation Program at the University of Connecticut.
Nami was founded in February of 2018 by Dr. Xiuling Lu, CEO, Dr. Michael Jay, Chief Scientist, Dr. David Worthen, Chief Scientific Officer, Dr. Andrew Salner, Clinical Advisor, Ruobing Xia, Chief Commercial Officer, and Summer Fellowships Derek Hargrove, Entrepreneurial Lead and Sterling Glass.
Nami is developing specifically designed nanoparticles for the targeted delivery of therapeutic agents, including radio-therapeutics, to tumors. Nami (which mean 'nano' in Mandarin) is using technologies licensed from the University of Connecticut and the University of North Carolina
.
In the words of Derek Hargrove, "Our experienced team is focused on tumor-specific nanoparticle platforms to largely improve delivery efficiency, treatment efficiency and product safety. One novel product is radiotherapeutic nanoparticles containing the beta particle-emitting isotope holmium-166 (Ho-166) for the treatment of peritoneal metastasis through intraperitoneal (i.p.) administration. The Ho-166 nanoparticles are produced by a neutron activation process that minimizes the handling of these highly radioactive nanoparticles. We have demonstrated the predominant accumulation of Ho-166 nanoparticles in tumors after i.p. administration to ovarian tumor-bearing mice, resulting in a reduction in tumor burden and prolonged survival. Despite advances in treatment strategies, peri
toneal metastasis remains the primary cause of morbidity and mortality in ovarian cancer. With 239,000 women diagnosed worldwide each year, ovarian cancer is the 7th most common cancer in women and has a five-year relative survival rate only 28%. It accounts for more deaths than any other cancer of the female reproductive system. Our immediate goal is to advance the Ho-166 product toward clinical trials by demonstrating its safety and efficacy in preclinical animal models.
By the conclusion of Summer Fellowship, Nami Therapeutics is looking to strengthen their business plan and develop a robust strategy for communicating their value to investors and industry collaborators so they are able to fund preclinical toxicity studies, the investigational device exemption (IDE) application for clinical trials, and GMP manufacturing of their product. They would also like to gain legal counsel for patent licensing and IDE filing by the end of the summer, while beginning to develop their clinical study design. 
---