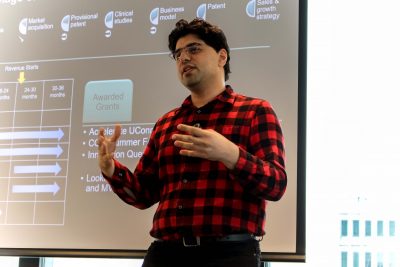 Armin Tahmasbi Rad, UConn School of Engineering Ph.D. candidate, and Leila Daneshmandi, UConn School of Medicine Ph.D. candidate, are engineering a diagnosis device to determine personalized treatment for cancer. The name of their venture is Encapsulate.
"Our automated tumor-on-chip system grows patients cancer cells outside the body and tests the efficacy of chemotherapeutic drugs against them to advocate for the best course of treatment," says Entrepreneurial Lead Tahmasbi Rad.
When asked why the team decided to join Summer Fellowship, Tahmasbi Rad replied, "Our team has participated in CCEI's other programs and found it so informative and useful. Therefore, we thought that focusing on our venture from a new perspective and having a better understanding about our ideal business model with CCEI mentors would be a great opportunity for us."
The Encapsulate team feels that thus far in Summer Fellowship they have mastered defining their initial business plan, marketing strategies and step by step company expansion.
By the end of this program, Tahmasbi Rad hopes, "we can have a clear vision over our marketing plan, our business model, and most importantly have the insight of our go-to-market strategies."
---