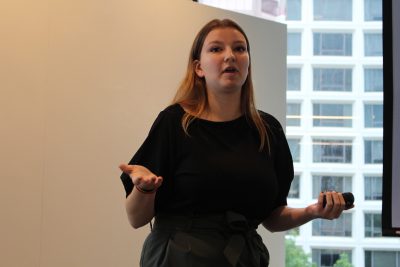 The UConn School of Medicine's Faculty Robert Aseltine, and postdoctoral fellows Chonglian Luo and Riddhi Doshi, along with the UConn College of Liberal Arts and Sciences graduate student Wenjie Wang and Undergraduate Student Madeleine Aseltine, and in collaboration with industry mentor Cal Colins, are building a program to assist healthcare providers in collecting patient information to improve quality measurement, increase patient engagement, simplify reporting, and maximize reimbursement.
This program, called WellTech, is a patient health screening platform that will screen patients for a variety of different diseases and risk factors to improve patient care and maximize reimbursements for the providers.
The WellTech team decided to join the Summer Fellowship after completing the Accelerate Uconn program in the spring of 2018, wanting to continue the work they had started and learn more about how to expand their business model.  
Entrepreneurial Lead Madeleine Aseltine feels that the team has already learned so much from their participation in Summer Fellowship. "So far, the most important thing we've learned is to know and understand how our customers decide to buy a product like ours. We're continually focusing on customer discovery so that we can deliver a product they want."
When asked what the team hopes to learn by the end of Summer Fellowship, Aseltine responded, "We hope to learn how to successfully grow our startup into a business, and how to take our product out of the classroom and into the market!"
---