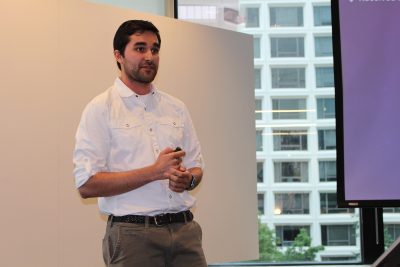 UConn School of Engineering graduates Daniel Yasoshima and Tom Cotton and College of Liberal Arts and Sciences student Jeren Koh have developed a multi-lingual tablet application that provides patients with an easier way to communicate with caregivers, called YouCOMM.
This app has hands-free and voice recognition capabilities that allow patients with hindered movement to also be able to use the device. The goal is to provide specification and prioritization to a caregiver, and thus enhance the quality of care in various healthcare facilities.
Yasoshima states, "The opportunity of expanding our education in business, strategy, marketing, customer acquisition, financing, and using the resources that this Summer Fellowship is providing is so valuable; truly an exceptional way of having our venture move forward. Some of the concepts we are learning is so useful –  not just for YouCOMM, but for life."
Thus far in the Summer Fellowship program, YouCOMM feels they have learned "The importance of providing value. It's so critical for us to understand the solution we are offering makes sense and that it is better than what is currently on the market. In addition, there are so many factors that can make or break a venture, and understanding the jobs, pains, gains of each stakeholder is a major contributor of what will drive our success."
By the end of Summer Fellowship, the YouCOMM team hopes to learn " the answer of the first question that was posed to us in our first class: do you have a viable business? I would not be in this Summer Fellowship if I did not believe in this venture. It takes hard work, nonstop preparation, and an open mind to continuously move a venture forward and to be able to answer "yes, I do have a viable business".
---