Who's ready for Hartford Innovation Week? We're proud to be supporting two exciting events to help spread the word on innovation in our city! Please read each of the two descriptions below, and RSVP to reserve your spot.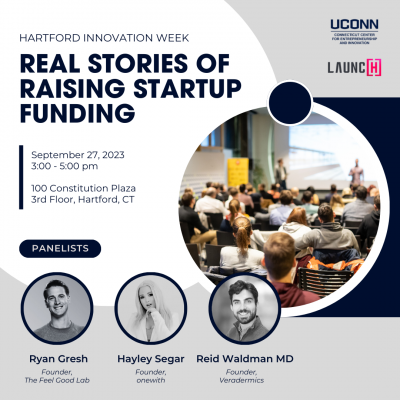 Real Stories of Raising Startup Funding
Wednesday, September 27th from 3-5PM
CCEI Hartford Office (100 Constitution Plaza, 3rd Floor, Hartford, CT)
Join us for an exciting event where experienced founders will share their insights on the many funding options for startups. This panel discussion aims to help aspiring entrepreneurs navigate the complex world of funding, providing valuable advice and strategies.
Don't miss this opportunity to learn from successful founders who have been through the funding process themselves. Gain actionable insights, network with like-minded individuals, and take your startup to the next level. Register now to secure your spot!
Panelists:
Ryan Gresh – Founder, The Feel Good Lab
Hayley Segar – Founder, onewith
Reid Waldman – Founder, Veradermics
Angel Investing: Evaluating Early-Stage Startups
Wednesday, September 27th from 5:30-8PM
CCEI Hartford Office (100 Constitution Plaza, 3rd Floor, Hartford, CT)
For investors, this is one of the most important skills to develop. Most of the pitches that you hear sound great, but will the team really be able to use your money to make money? And for founders, it's equally important to understand how potential investors are sizing-up your team and your venture.
In this session, Craig Mullett will share some criteria that he has developed for evaluating early-stage companies through his experience as an angel investor. He'll also share a framework for using those criteria to efficiently evaluate the investment opportunity associated with early-stage companies both during and AFTER the initial pitch.
A panel of active angel investors will also share their experiences in evaluating, and investing in early-stage startups. Please join us for an informative and engaging evening with peers from Hartford's growing innovation community.
---