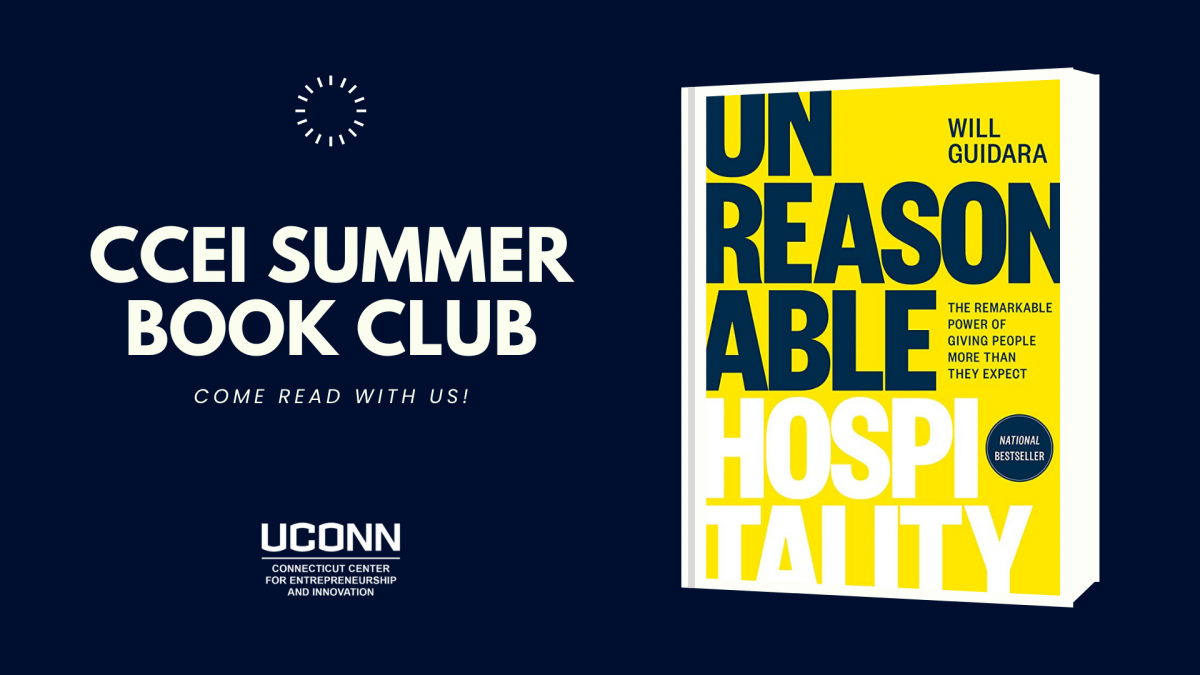 The Connecticut Center For Entrepreneurship and Innovation (CCEI) is excited to announce that we will be hosting a book club beginning this summer! 
We invite you to join in alongside our CCEI team as we read Unreasonable Hospitality by Will Guidara. Prepare to be inspired by the art of creating extraordinary dining experiences, fostering genuine connections, and pushing the boundaries of hospitality in the workplace … some ideas entrepreneurs (or anyone in any business journey) should consider and reflect upon.  
So, why this book? Our Executive Director, Jennifer Mathieu said it best: 
"I believe in the power of creating environments in which people can flourish - this includes the members of our teams and the customers that we serve. It all comes down to the culture that we create and the experience we allow others to have when they interact with us. I have charged our team with creating a culture of greatness - not just in hospitality - but in encouraging them to operate from a space that cultivates their strengths and celebrates them. 
This conversation started well over a year ago, when we took the journey as a team to figure out what the next five years of CCEI look like. What do we value as a center? How do we want people to feel when they interact with us? As part of our journey in uncovering the possibility at CCEI, we wanted our community to join us."
You'll be able to reflect with us as we post our own feedback on the book, and we encourage you to comment on these posts with your own thoughts to continue the conversation! 
We will ponder the following questions as we read, and encourage you to do the same: 
How does the culture of hospitality translate into the work you do?
How can you implement this culture when building a business or a team?
What general themes stood out to you? 
Did you have any major 'ah ha' moments? 
What do you think of the 'Rule of 95/5'? Can you find ways to apply this rule to your organization or your work? Can you find ways other than from a financial perspective to cultivate the 95/5 rule?
What lessons in leadership did you take away from this book?
In September, we plan to host an in-person meet up (with refreshments, of course!), where readers can come together and reflect on their insights/opinions. As an incentive to get involved and test your own personal/professional hospitality journey, we're giving the first FIVE sign-ups a free copy of the book! All you have to do is fill out the Google Form below.
Hope to see you soon! 
---