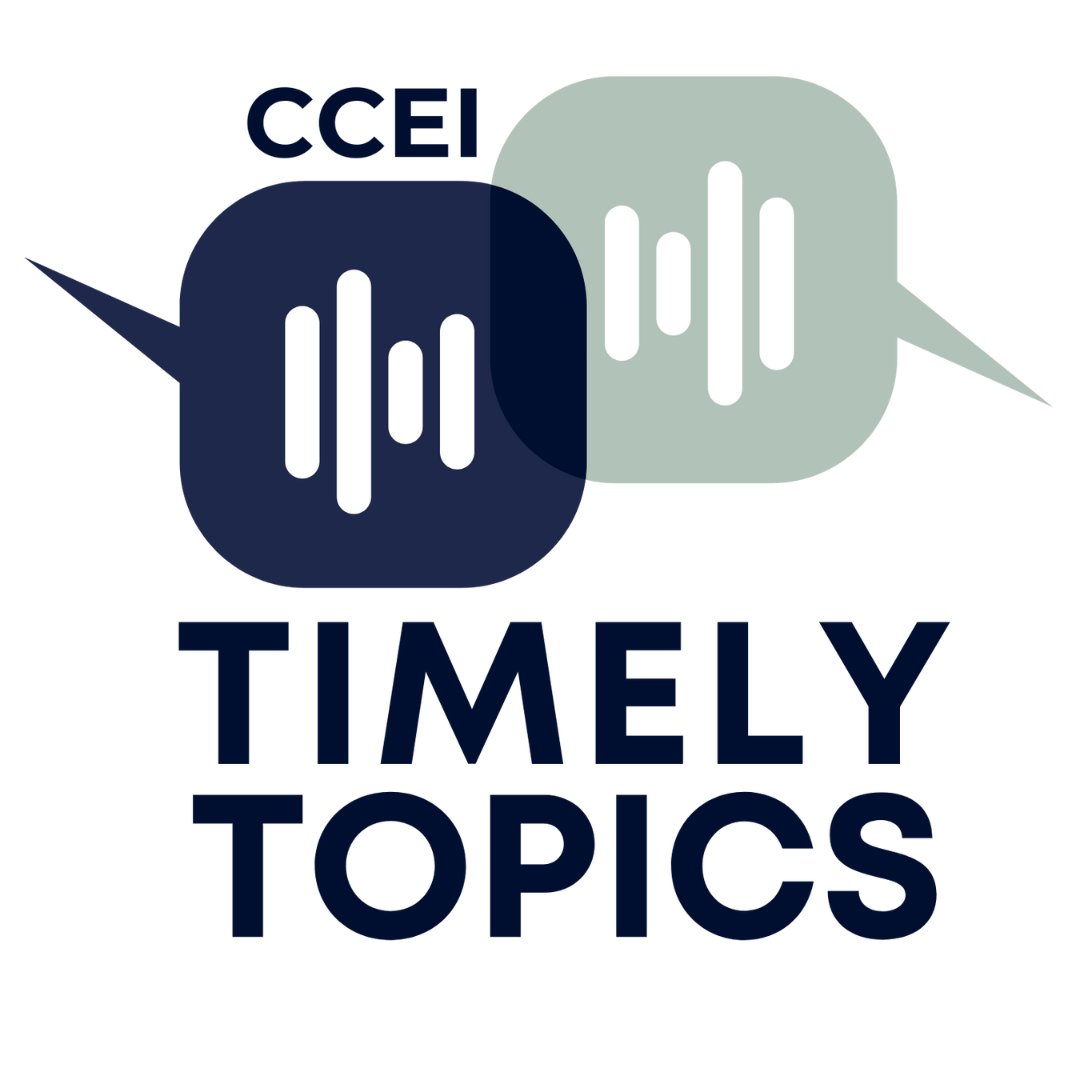 ABOUT TIMELY TOPICS
One of the most powerful tools for an entrepreneur is being connected to the right resources when they are needed most. Timely Topics, a series hosted by CCEI, features panels of speakers, workshops to engage our entrepreneurs, and fire side chats with successful business leaders. These sessions are a way for CCEI to provide ongoing opportunities for students, faculty, and alumni entrepreneurs to learn, grow, and connect.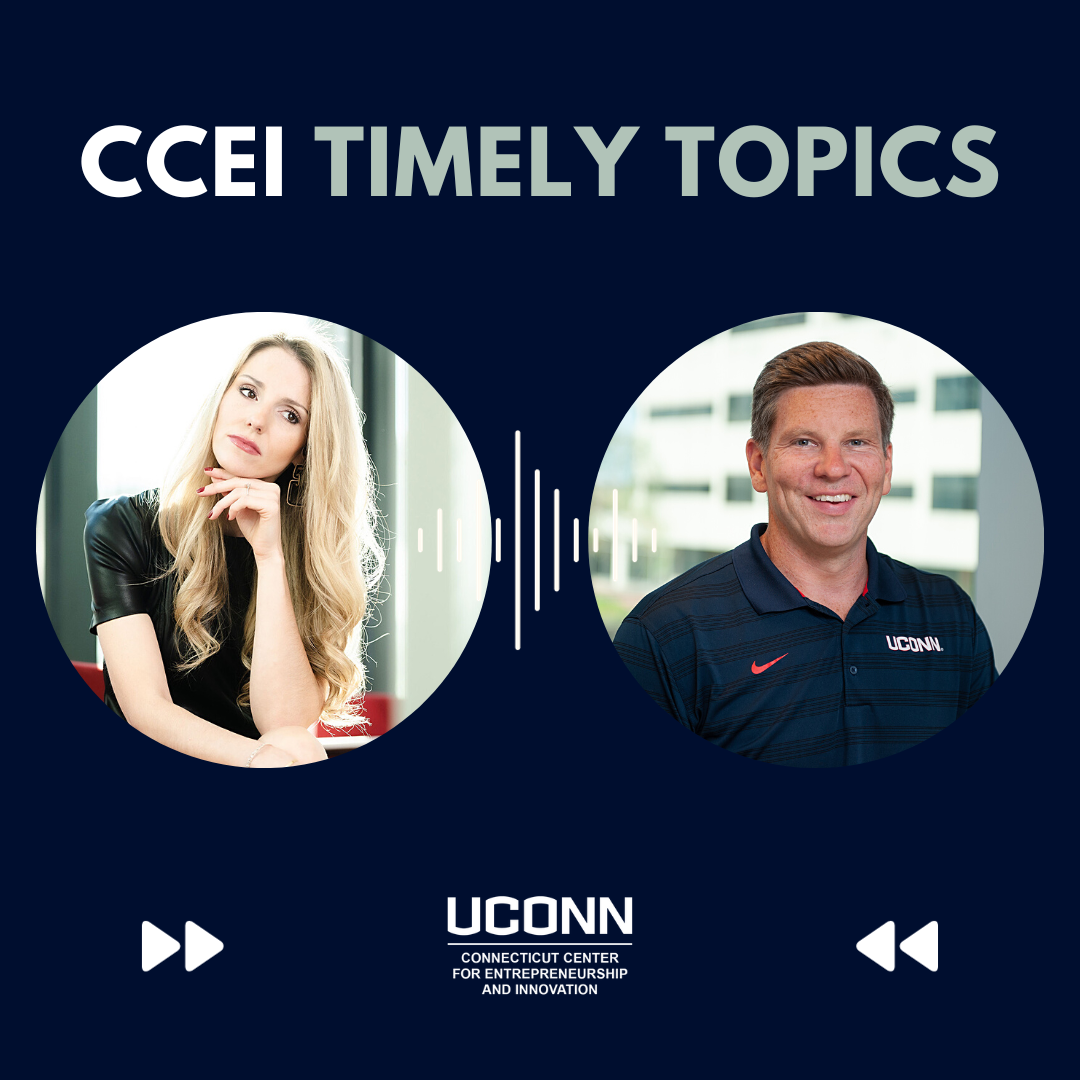 Aloha! Goodbye & Hello: Moving From One Timely Topic To The Next
with Jennifer Mathieu & Rory McGloin PhD | CCEI
Tuesday, December 12, 2023 @ 12-1PM
Saying goodbye to the old and welcoming in the new! Get ready for the next chapter of Timely Topics as it forges deeper connections with its community, addresses contemporary topics, and has a lot of fun along the way. Join Jen and Rory as they discuss the new direction it will be taking, and reflect on what we've learned from the series over the past two years. 
Jennifer Mathieu is the Executive Director of CCEI and supports economic development by fostering initiatives for startups and small businesses at UConn, across Connecticut and to alumni worldwide. In this role she has helped to launch and grow hundreds of startups and several new programs and initiatives to support entrepreneurs. Jennifer is an entrepreneurship educator and teaches courses and programs to support entrepreneurs. Read more about Jennifer's background here.
Rory McGloin Ph.D. is an award-winning business communication professor at the University of Connecticut. Rory's career in higher education spans 17+ years, including engagements with over 10,000 learners to date and 35 peer-reviewed publications. In addition, Rory serves as the Associate Director of Communication Programming and Development for the UConn School of Engineering's Professional Education Program
 as well as serving as the
Associate Director of Entrepreneurial Communication & Research
with CCEI. Read more about Rory's background here.
RSVP
Timely Topics events are free and open to the general public. We ask that you please register ahead of the event.
Watch Past Events
Military Leadership Tactics In A Modern Civilian World
with Will Farmer
Army Ranger To Founder: How One EBV Graduate's Mission Led To Entrepreneurship
with Jonathan Norton
Empowered Women Empower Women: The Positive Influence of Mentors on Women Leaders
with Jennifer Mathieu, Hayley Segar, Grace Napolitano, Milena Erwin
How Modern Managers Should Think About Generative AI
with Sami Ghaddar PhD
Leadership Through Mindfulness
with Hannah Drain Taylor
Becoming A Whole Human Achiever: Honoring Ambition Without Sacrificing Well-Being
with Lauren St. Germain
The Entrepreneurial Mindset of Public Speaking
with Carly Middleton & Jeff Varrone
Identifying & Refining Your Values
with Jennifer Mathieu & Rory McGloin
Made In Connecticut, Staying In Connecticut
with Adam Rodrigues
Passion, Persistence, & Recognizing The Malleable World
with Jeremy Bronen 
Life Design: Wherever You Are Is A Great Place To Begin
with Brooke Gemmell
Master Your Magic
with Matt Chavlovich
CAKES Isn't Just A Company, It's A Movement
with Olivia Mott
Navigating Career Transitions
with Matt Riley
What Does Success Mean To You; Finding Your Why!
with Christin Collins
Increase Your Income & Impact By Sharing Your Story
with Elizabeth Hill
Preparing The Pitch (Part 2)
with Lily Macomber
Preparing The Pitch (Part 1)
with Lily Macomber
Unintended Solopreneurship
with Donald Pendagast
The Timeliest of Topics: CCEI's 15th Anniversary Celebration
with Jennifer Mathieu, Ryan Gresh, and Nick Wagner
Turning Dreams Into Reality In Hawaii: Veteran Built Chocolate Farm
with Michael Rogers and Maria Carl
How To Conquer Imposter Syndrome In 3 Easy Steps
with Grace Napolitano
IT'S ABOUT TIME
with Brittany Stephenson
Using Self-Awareness As A Strength In Your Entrepreneurial Journey: Celebrating Women's Entrepreneurship Week
with Jennifer Mathieu, Shay Cantner, Hayley Segar, and Jayme Coates
Inflection Point: Leveraging Experience To Cultivate A New Business
with Joseph Skelnar
Every Success Begins With An "ASK"
with Maureen Ahern
How Grit Turns Into Growth
with Shannon Malkin Daniels
Making Sales Simple
with Steve Lanzit
Up & Coming Professional: What It's Like Being A Young Woman Navigating The Professional World
with Meghan Diamond
The Relationship Between Creativity & Burnout
with Nova Lorrainne
Productivity Powerhouse
with Dave Bruno
The Value Of Storytelling In Your Business Pitch
with Rory McGloin
Is It Time To Export?
by Erno de Brunjo
Commercializing Big Ideas 
with Rachel Brand
An International Perspective On Scaling Your Business
with Andy Mackin
Riding The Roller Coaster Of Entrepreneurship
with Ryan Gresh